2016 hasn't been the best year for expats in Saudi Arabia; from the new implementing regulations to the Labor Law to thousands of people losing their jobs. And to make it worse, voice and video calls in three of the most popular VoIP applications: Facebook Messenger, IMO and FaceTime, which millions of expats rely on to keep in touch with their friends and loved ones back home for free, have been banned upon a decision from Saudi Arabian telecommunication authority. There has been widespread speculation that the purpose of this decision is to protect profits of telecom companies. This is not the first time that such procedure has been taken; as WhatsApp calls and Viber have been already blocked.
This problem can simply be solved by establishing VPN connection on your phone. VPN is guaranteed to make Messenger, IMO and FaceTime work in Saudi Arabia since it lets you connect your phone to a server outside Saudi Arabia and obtain a new IP address hence you will be able to unblock VoIP protocol that is essential for voice calls features in these applications. Fortunately, VPN feature is available on both Android and iOS; the two operating systems that run more than 90% of the smartphones nowadays and all you need to get a VPN account and follow simple configuration steps. Moreover, most of VPN providers have applications for Android and iOS so you can choose between using manual setup or VPN app, whichever is more convenient for you. Now we will explain how to use OpenVPN; an open-source software application to connect to VPN server on both Android and iOS to unblock Messenger in Saudi Arabia.
Using VPN to Unblock Facebook Messenger in Saudi Arabia
First, you need to get VPN account so click here to register:
https://www.barqspeed.com/en/accounts/quickregister/
Then go to this link:
https://www.barqspeed.com/en/accounts/profile/openvpn_server_list/
To download configuration file, tap "Generate" button that can be located below each server.
If have an Android phone
Go to Google Play and in search space type "OpenVPN Connect" and install the app that appears first in search results.
Open the app and tap the button on the up right corner and select "Import" from the dropdown menu.
Now tap "Import profile from SD card" then "Download" and select the configuration file you've recently downloaded.
You will be required to provide your VPN account's Username and Password and make sure to check "Save" checkbox.
Tap "Connect" and in case you see a popup message check "I trust this application" checkbox and tap "Continue".
If you have an iPhone
Go to the App store and download OpenVPN Connect.
Go the configuration file you've downloaded and tap "Open in "OpenVPN".
In OpenVPN Connect app, tap green + button.
Provide your VPN account's Username and Password.
Slide "Save" button to the right.
Slide "Disconnected" button (off) to the right to make it "ON" and you'll see the word "Connected" appear and the button turns to the color green.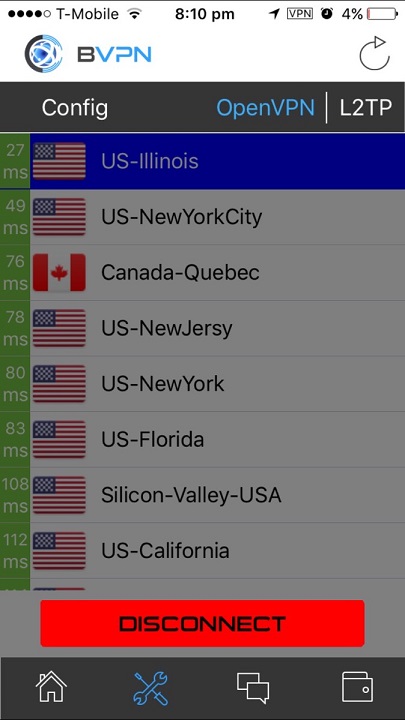 It's recommended that you find a VPN provider that offers its users multiple simultaneous connections per account so can make use of your VPN account on more than one device at the same time or in case you would like to share your account with a friend or a family member who you frequently call on Facebook Messenger in Saudi Arabia.